Wow, I have been away for a while!! There are some reasons (some more valid than others)
1. I got pretty sick (don't worry, not coronavirus!) for almost a week.
2. My printer/scanner went kaput
3. The 4th ended up being pretty fun, but took up a lot of my time
But hopefully I am back, even though I don't have a scanner yet. I'll try to post about things that don't require my awful photography skills. I have a bunch of incoming mail and new acquisitions to share, but you will be spared all that for a while.
What I would like to talk about today is how much fun I had while I was sick re-watching Fastball, the 2015 documentary of the great fastball pitchers in the history of baseball. It's narrated by Kevin Costner, which is good and bad, but we'll get to that in a bit.
I imagine most of you have already seen the show, but if you haven't, it's currently available on the Tubi app if you have a Roku, or if you want to watch it on the net,
this link will take you there
.
The main crux of the movie is stated in the opening moments when a quote from 'Baseball Magazine':
"No subject has stirred more debate among baseball fans than the speed of the pitchers' fastballs.'
The quote is from 1912.
I guess the point is that this debate, who throws hardest, has been around as long as the game has been. Not a big surprise!
The show goes on to spotlight some of the hardest throwers in history. It's a bit of a who's who of fastball pitchers, and for the most part, the list is unsurprising. But one of my favorite bits is when they spotlight Steve Dalkowski. Now if you haven't seen the show and don't know who Steve Dalkowski is, I won't ruin it for you. Go watch it! Now!! But I will say that I definitely wanted a Dalkowski rc after watching.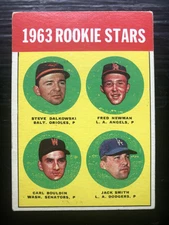 Back in the 80's, I imagine a Steve Dalkowski rc was pretty close to a common card. But with the internet and this documentary, it has become much pricier. Take a look at
recent ebay sales of the card
. OK, not astronomical, but the average, young fan might be a little confused why it commands a premium. Hint: It's because of the fastball! So if you have a spare Dalkowski rc, send it my way!
Oh yeah, I said I'd talk about Costner's narration. Kevin Costner narrates a lot of stuff about baseball. And he has been in a lot of movies about baseball. He's almost the 'number one baseball actor'. Probably. And there is a reason for that. He cares about the game, and that comes out in his narrations. But since he has done so many, I found myself feeling like he was reusing the same old schtick sometimes. At one point, I even thought he was going to start up one of the speeches from Field of Dreams! So there you have it, it's good. And bad. Hopefully it won't detract from the show for you, just something I noticed.
My other favorite part of the show is at the end when the various methods for determining a fastball's speed are compared. The idea is that the earlier methods were less precise than current methods. So the greats are compared using a system that accounts for the problems with earlier speed tests, and an
all time fastball champion
is crowned. Is it perfect? Probably not. Is their methodology sound? Couldn't tell you!
But I like the outcome. Go check it out if you haven't seen it, and if you have, let me know what parts you liked best.