Wow. Just wow. I know everyone has lost someone, a hero from MLB, in the last year or so. I felt for people who I knew had strong connections to some of those players. Dodgers fans lost Tommy LaSorda and Don Sutton. Bob Gibson and Tom Seaver were big ones for a lot of us. Joe Morgan, Whitey Ford, Lou Brock, Al Kaline, Phil Niekro and Dick Allen affected a lot of people. There were many, many more. Here is a list of MLB players who died in 2020. I don't even know some of them, but a lot of them trigger memories:
Dick Allen, Johnny Antonelli, Derek Aucoin, Ramon Aviles, Rick Baldwin, Kim Batiste, Glenn Beckert, Julio Becquer, Jim Bolger, Frank Bolling, Lou Brock, Oscar Brown, Tyson Brummett, Foster Castleman, Horace Clarke, Gil Coan, Ramon Conde, Ted Cox, Ray Daviault, Billy DeMars, Jim Derrington, Adrian Devine, Paul Doyle, Hal Dues, Angel Echevarria, Narciso Elvira, Ed Farmer, Chico Fernandez, Tony Fernandez, Ed Fitz Gerald, Whitey Ford, Damaso Garcia, Bob Gibson, Bill Gilbreth, Larry Gowell, Dave Gray, Rich Hacker, Charlie Haeger, Jay Hankins, Carroll Hardy, Billy Harris, Don Hasenmayer, Remy Hermoso, Jim Hicks, Dick Hyde, Ray Jarvis, Bart Johnson, Ben Johnson, Lou Johnson, Jay Johnstone, Howie Judson, Al Kaline, Eddie Kasko, Matt Keough, Dick Koecher, Keith Lampard, Don Larsen, Bob Lee, Phil Linz, Bobby Locke, Jim Manning, Hank Mason, John Matias, Mike McCormick, Lindy McDaniel, Jack McMahan, Denis Menke, Bob Miller, John Miller, Roger Moret, Joe Morgan, Phil Niekro, Bob Oliver, Bill Oster, Jim Owens, Johnny Paredes, Jarrod Patterson, Don Pavletich, Ron Perranoski, Paul Pettit, Dan Pfister, Biff Pocoroba, Jay Porter, Bobby Prescott, Hal Raether, Ken Retzer, Les Rohr, Jorge Rubio, Mike Ryan, Tommy Sandt, Dick Scott, Tom Seaver, Bob Sebra, Hal Smith, Bill Spanswick, Ed Sprague, George Spriggs, Bob Stephenson, Tony Taylor, Bert Thiel, Arnold Umbach, Dan Walters, Claudell Washington, Bob Watson, Ray Webster, Fred Wenz, Wally Wolf, Hank Workman, Jimmy Wynn, George Yankowski, Tom Yewcic
Rest in peace, all of you.
But now Hank Aaron has died. I don't know how to communicate how much that is affecting me. I knew it would hit me hard when it eventually happened, but the emotions are even stronger than I expected them to be.
If it sounds like I am being a bit of a baby, that could be valid. I never met the man. I never saw him play. I have no actual connection to him.
But he and Willie Mays were really my gateway to baseball and its history. And that history has been a major part of my life and interests over the years. As a kid, I read at least 5 different Hank Aaron biographies, and countless other literature that talked about his experiences and accomplishments. His life was very real to me. I learned about growing up from his youth. I learned about leaving home and the struggles that I would later face. I learned about the game of baseball. I learned about the rivalries of the 50s. I learned about struggles between players and managers. I learned about perseverance. I learned about the struggles of race, which were new to me, having been sheltered in my homogeneous little neighborhood. I learned about strength and how to show it. I learned about weakness and how to shore it up. I learned about hate and love. I learned about respect. I learned about history.
His baseball career is impressive. He is rarely talked about as one of the top 2 or 3 players of all time. But he isn't too far down the list. He played 23 years and had 3771 hits, only 755 of which were home runs. So 3016 hits that were not home runs. Not a way that I have looked at it for a while, but impressive. He still holds the record for RBI with 2297 and total bases with 6856. That total bases one is underappreciated. Aaron is first by 722 total bases over second place Stan Musial. The only active player within 1000 of him is Albert Pujols. The only other active player within 2000 of him is Miguel Cabrera. An incredible career.
Many of you probably know this story, but it is one of my favorites from Aarons biographies. It humanizes him, and as a child, made an icon seem like someone who I could understand and emulate. I wish I could find the book, so I could put the story in his words, but I can't, so I will do my best. As a kid, and into his teens, Aaron's family was very poor, and to help out with money, he took a job delivering ice around town. When he got to each stop, he would uncover the large blocks of ice on the back of the card and use ice tongs to pick one up with each hand and walk them over for delivery. The ice tongs were like the picture below, and most delivery boys used both hands, taking one block at a time.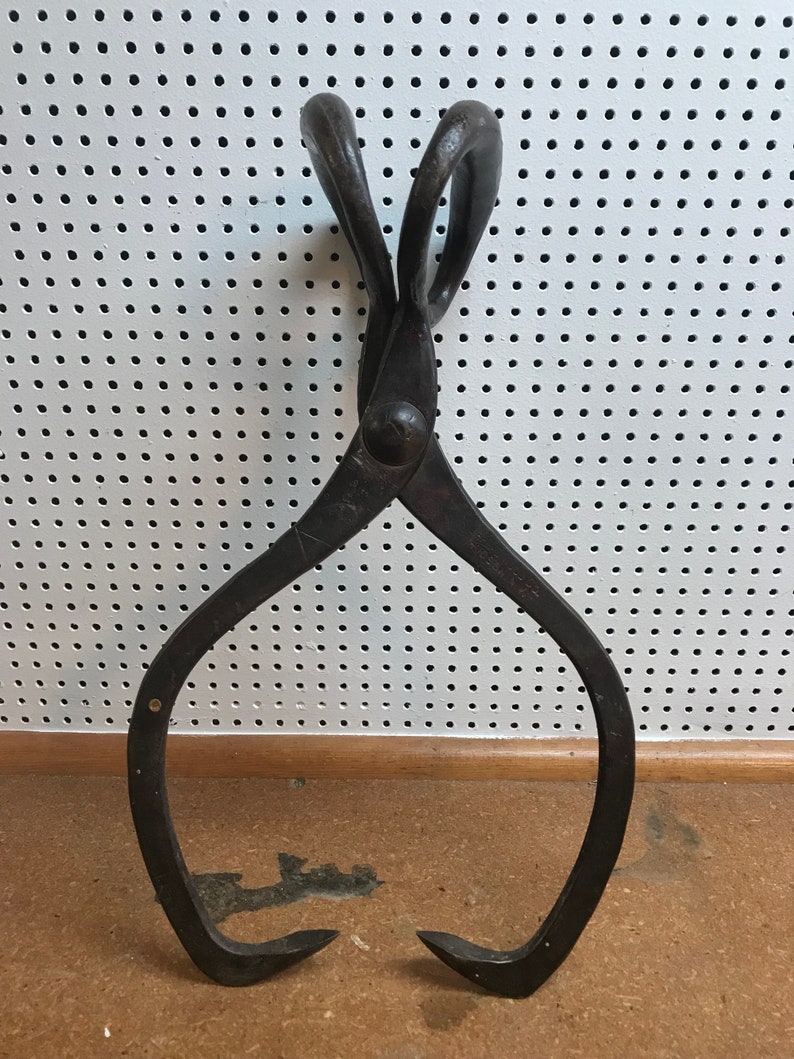 Aaron used one hand per block. He later credited this with helping to strengthen his wrists. And according to Hank, strong wrists were the key to both his power and longevity.
I loved the story. There were many times in my childhood, when I was trying to improve my low level athletic skills, that I tried to use daily chores to improve my strength because of this story. And just the concrete idea that a strong work ethic would benefit you all your life was an excellent lesson.
Home run king. I still think of him that way. I don't harbor ill will to Barry Bonds passing him with the help of performance enhancers. When the recent announcement was made that MLB would be considering the Negro Leagues as Major Leagues, and that might affect statistics and records, I immediately thought of Henry. You see, most don't remember, but he played a short time in the Negro Leagues for the Indianapolis Clowns. But it was short lived, as he was scooped up by the Braves. According the the sources I found, he hit 5 home runs in 26 games in the Negro Leagues. That would bring his total to 760, still 2 short of Bonds. Would have been nice, but in the end, it doesn't make any real difference to me.
Another interesting thing is that when Aaron was being recruited by the Braves, he also received an offer from the Giants. The Braves offered $100 per month more, so he went that direction. But imagine what could have been if he had gone with the Giants. Willie Mays in center field and Hank Aaron in left.
I greatly wish I had more Hank Aaron cards. In fact, my all time top white whale would be his rookie card. But I am afraid that will never happen. Here are the Hank Aaron cards in my collection:
So I guess you've figured out the Aaron meant a lot to me. He still does! My favorite baseball player of all time.
An icon of strength, consistency and respectability. Henry Louis Aaron.